Meteorological Team
Overview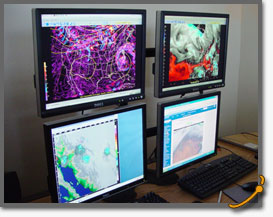 The mission of the EPG Meteorological (MET) team is to collect, archive, and analyze weather information to support military and civilian test operations. The team provides climatology, daily forecasts, radar weather, watch/advisory/warning notifications, and upper air data for EPG planners, testers, and post operations. Services consist of test planning, test support (forecasting, meteorological measurements, and atmospheric characterization), test analysis, and test data reports. The team provides weather watches and warnings for:
High winds
Heavy rainfall
Severe thunderstorms
Lightning
Heat stress
Wind chill
Hail
Snow
Capabilities
To fulfill its mission the team operates and maintains fifteen Data Collection Points (DCPs) across Fort Huachuca. Data is collected from all of the DCPs every fifteen minutes via an automated Very High Frequency (VHF) radio network. The data is then archived at the weather station for current and future reference.
The team also maintains three DCPs located on the San Pedro River. Data from the 3 DCPs are used by the Department of Agriculture in conjunction with the University of Arizona to perform water usage studies along the San Pedro River and Mexico.
The weather station operates two upper level wind profilers, and upper level radiosonde system, a lightning detection system, a National Oceanic and Atmospheric Administration (NOAA) weather port, and other systems required to support the EPG mission.
The MET team has one of the most advanced weather systems available for providing meteorological support. The "Four Dimensional Weather System" (4DWX) is leading edge technology in this field. It allows for rapid assimilation of real-time data to provide the tester with the best data available. It also has advanced warning capabilities for things such as lightning and high winds, allowing a program manager as much time for testing as possible.
The MET team also has the ability to operate in remote locations with mobile weather systems. The systems are set up and fully functional within a few hours.
Support
The MET team provides remote support to EPG at Fort Huachuca and Fort Hood. In addition, the team supports the following organizations and more:
Joint Interoperability Test Command (JITC)
TRW Inc.
Unmanned Air Vehicle (UAV) Program
U.S. Army 11th Signal Command
FT Huachuca Operations Center
U.S. Air Force Aerostat
FT Huachuca Environmental and Natural Resources Division
Department of Agriculture
Arizona State University
City of Sierra Vista
Department of Homeland Security
Upper Air Balloon Surroundings:
Test specific release times
Specific test required heights or standard balloon heights (40,000-80,000 feet)
Surface Automated Meteorological System (SAMS) data:
Parameters: Temperatures

Atmospheric Pressure (millibars or inches of mercury)
Dew point/relative humidity
Solar radiation
Precipitation

Daily/monthly reports and evaluation are available
Standard sites throughout Fort Huachuca
Test-specific sites can be installed
Forecasting:

Daily forecasts
Weather planning with 5-day forecasts
Range advisories issued as needed
Long-term forecasts