Environmental Test Facility
Overview
The Environmental Test Facility (ETF) conducts tests based on the whole life-cycle process in simulated environments. Complete climatic and dynamic test capabilities are available for testing to military and other environmental standards. The ETF is adequately equipped with a variety of test support equipment to monitor all test variables to provide real-time or post-test analysis.
Capabilities
The ETF can perform: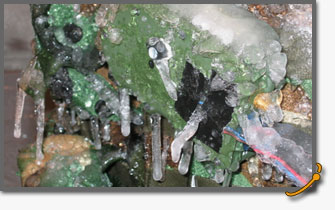 Figure 1: Ice in the Extreme Climatic Testing Chamber
Reliability and Environmental Stress screenings
Natural Environment Acceptance tests
Induced Environmental Acceptance tests
Instrumentation and climatic chambers with capacities from 2 to 5,830 cubic feet (ft³) support these capabilities. Conditions are precisely controlled and are 100% repeatable.
The ETF can meet all the requirements called out in MIL-STD-810 and DO-160 with few exceptions. Test chambers at the ETF can produce one or a combination of test conditions at a time for test items up to 16'x11'x10' (expandable to 53') length x width x height (LxWxH) in size.
Environmental subject matter technical experts are available to travel to and assess commercial contractor facilities and test chambers for capability/suitability of performing required first article acceptance tests. These personnel may remain long-term on the test site as a (Government representative) witness to report on conduct of tests.
Climatic Testing
Figure 3: Equipment being tested in a Dust Storm
Separate chambers are available for multiple tests:
A temperature range of -151º to 200º Celsius can be reached
Temperature-Altitude-Humidity: Temperatures of -65º to 121º Celsius and 120,000 feet of simulated altitude can be created
Temperature-Humidity-Vibration: Humidity of up to 99% can be achieved
Rain: Rainfall up to 26 inches per hour can be simulated, with or without winds up to 120 miles per hour (mph)
Sunshine: The solar chamber replicates the full spectrum of sunlight; the effects of solar loading are studied; these tests assess the ability of material to withstand ultraviolet (UV) rays, visible light, and infrared (IR) rays up to 1,400 watts per square meter.

Figure 2: Inside Solar Chamber

Blowing Sand/Dust/Rain: High velocity winds are created up to 120 mph
Fungus Test: 28 day fungus growth testing; we grow, cultivate and apply fungus spores to assess the extent in which materials support fungus growth
Salt-Fog: The effects of corrosion are studied and the chamber can produce concentrations up to 20% by weight
Explosive Atmospheric Testing: The chamber utilizes n-Hexane or Hydrogen to create an explosive environment
Blowing Dust Chamber: (densities up to 10 gram/cubic feet): High velocity winds with dust are created
Immersion Test: Assess system's ability to withstand water immersion
Dynamic Testing
Figure 4: Screen Shot of Vibration Report
Dynamic test capabilities include vibration shakers with computer control to conduct sine wave, random, shock, classical shock, gunfire simulation, and shock response vibration spectra.
Four vibration systems are Advisory Group on Reliability of Electronic Equipment (AGREE) style and consist of 10,000 random/8,000 sine force-pound capability with 2 inches of displacement in range of 5 to 2,000 Hertz. The vibration test system can replicate vibration signatures of military vehicles at various positions to look for fatigue.
The large shaker has a capacity of 13,000 random/26,000 shock force-pounds with 3 inches of displacement and a range of 2 to 2,000 Hertz.
Four dynamic shakers with climatic chambers can reproduce continuous diurnal cycles of exposure to measure the reliability of equipment.
The shock machine is capable of producing half-sine, saw tooth, and square wave pulses up to 100 times acceleration due to gravity (g) with a 200 pound test item.
Figure 5: Monitors being tested on vibration system
The large vibration machine can achieve half-sine and saw tooth pulses up to 100 g forces with a 600 pound load. Crash safety testing can be done on this machine.
Additional test capabilities include loose cargo bounce, vehicular bounce, drop, bench handling, and MIL-S-901 high-impact shock for lightweight equipment, rapid decompression, contamination by fluids, deep immersion (-250 ft.), snow loading/wind testing of tentage.
Global Positioning Systems
Global Positioning Systems (GPS) can be chamber tested at climatic/dynamic extremes with multichannel GPS simulators or live signals from first-order survey positions. The GPS simulators create moving or fixed scenarios. Transducer data, monitoring pressure, acceleration, etc. can be merged with signal quality and GPS satellite constellation ephemeral data into a single GPS-time tagged record during data reduction.
Beacon Certification Facility (COSPAS-SARSAT/RTCM)
The ETF also doubles as a Search and Rescue Beacon Certification Facility. It is one of five certification facilities in the world to provide (COSPAS-SARSAT)/RTCM Certification which is:
Available for all beacon types
Available for all protocols (user, standard, and national)
GPS/Data Simulation for testing self-locating beacons
Antenna characterization tests
System characterization tests
To help support the beacon field-testing, EPG utilizes its Test Control Complex with over 1,000 first order accuracy survey points and a position location system with GPS.
Accomplished Projects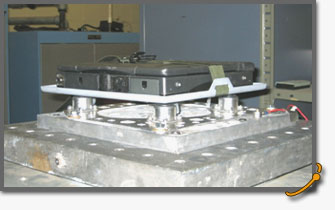 Figure 6: Laptop Computer being tested on a Vibration System
Some of the recently accomplished projects include the following:
Switchblade Lethal Miniature Aerial Munitions System (LMAMS)
Two Joint Counter Radio-Controlled Electronic Warfare (JCREW) 2.1 variants:

The Crew Vehicle Receiver Jammer (CVRJ)
The Mobile Multi-Band Jammer (MMBJ)

The Light Tactical Trailer Mounted Electronic Attack System
Javelin Missile Command Launch Unit (CLU)
The Common Through Sight Video (CTSV)
PM Soldier Sensors & Lasers (PM SSL) on the AN/PVS-26 Clip on Sniper Night Sight
XM982-Excalibur
Defense Advanced GPS Receiver (DAGR)
Ground-Based GPS Receiver Application Module (GB-GRAM)
Joint Tactical Radio Systems (JTRS)
Nett Warrior
Large C4ISR Systems Capability
The ETF has a Large C4ISR Systems Chamber (50'x20'x20')( LxWxH) capable of supporting Blowing Wind, Sand, Dust, and Rain Subtests under controlled temperature conditions. Contact us for your specific requirements.