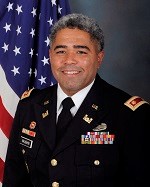 Deputy Commander
MAJ Jason A. Vaughn
MAJ Jason A. Vaughn hails from Brooklyn, New York. He enlisted in the United States Army as a Human Resource Specialist (42A). MAJ Vaughn attended Basic Training and AIT at Fort Jackson, South Carolina in January 2004. In July 2010, MAJ Vaughn attended Officer Candidate School (OCS) in Fort Benning, GA and commissioned as a Second Lieutenant in the U.S. Army Corps of Engineers.
His previous assignments include: Force Manager, III Corps, Fort Hood, TX; Global Force Manager, Combined Joint Task Force- Operation Inherent Resolve, Camp Arifjan, Kuwait; Division G-3, North Atlantic Division, U. S Army Corps of Engineers, Fort Hamilton, NY; Company Commander, Bravo Company, 2nd Battalion, 60th Infantry Regiment, 193rd Infantry Brigade, Fort Jackson, South Carolina; Levant Branch Operations Officer in the Theater Security Cooperation Division, United States Army Central Command (ARCENT), Shaw Air Force Base, South Carolina; Company Commander, 1st Cavalry Division Horse Detachment and Executive Officer, Platoon Leader, Charlie Company, 4th Brigade Support Battalion, 4th Brigade Combat Team, Fort Hood, Texas; Human Resource Sergeant, 171st Infantry Brigade, Fort Jackson, South Carolina; Human Resource Specialist, 3rd Brigade Combat Team, 3rd Infantry Division, Fort Benning Georgia. His combat tours include Iraq (3).
His military education includes Basic Leader Course, Advance Leader Course, Battle Staff, OCS, Engineer Officer Basic Course, Engineer Captains Career Course, How the Army Runs Course and the Force Management Qualification Course. MAJ Vaughn earned a Bachelor of Arts Degree in Psychology and Sociology from The University of West Alabama in Livingston, Alabama.
MAJ Vaughn's awards and decorations include Meritorious Service Medal (2 OLC), Joint Service Commendation Medal, Army Commendation Medal (7OLC), Army Achievement Medal (5OLC), Joint Meritorious Unit Award, Army Meritorious Unit Award (2nd Award), Army Good Conduct Medal, National Defense Service Medal, Global War on Terrorism Service Medal, Iraqi Campaign Medal (3 Bronze Stars), Global War on Terrorism Expeditionary Medal, Army Overseas Ribbon (numeral 2), Noncommissioned Officer Professional Development Ribbon (numeral 2), Army Service Ribbon, and Combat Action Badge.
MAJ Vaughn is married and has two children.
Download
Biography
Official Photo