Instrumentation
EPG is the Army's Command, Control, Communications, Computers and Intelligence (C4I) Developmental Tester headquartered at Fort Huachuca, Arizona. EPG conducts bench tests, lab tests, field tests, and large-scale, geographically distributed systems of systems tests. EPG employs a mix of live and simulated instrumentation and assets. EPG uses various types of instrumentation to support the mission.
---
The Command, Control, Communications, Computers, Intelligence, Surveillance, and Reconnaissance (C4ISR) Test Tool Kit - Data Reduction and Analysis (CTTK-DRA) suite provides near real-time and post-test data processing, evaluation, and presentation capabilities to the test community using data collected from military platforms, typically an Army Battle Command System (ABCS) or Future Combat System (FCS) architecture instrumented with the United States Army Electronic Proving Ground (USAEPG) data collection services. CTTK-DRA uses a plug-in architecture to manage, monitor, analyze, and report on message traffic, network data, friendly and enemy situational awareness (SA), and much more.
CTTK-DRA was designed to provide data reduction, analysis, and presentation capabilities to the developmental test community. The plug-in architecture facilitates extensibility and adaptability. In addition, most of the plug-ins include comprehensive custom reporting capabilities that accommodate "spur-of-the-moment" requirements.
---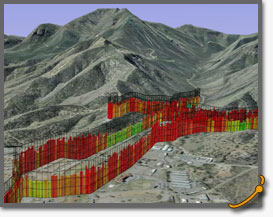 MANCAT is a tool for collecting and analyzing Radio Frequency (RF) Spectrum data. It collects this data from a variety of Spectrum Analyzers and provides an interactive, graphical environment for viewing and analyzing this data and generating report outputs.
MANCAT interfaces with an assortment of spectrum analyzers and uses a XML based scripting language called XScript to automatically collect RF Spectrum Data. The data is then processed to generate interactive charts and other visualizations that provide the user with the ability to view the RF Spectrum at-a-glance or "drilldown" through the data to view and analyze any portion of the spectrum they are interested in.
MANCAT is an excellent tool for characterizing the RF environment across the spectrum. It can be used to monitor specific single frequencies of interest to the entire frequency range of the spectrum collection equipment used and then present the data using powerful visualization tools. MANCAT can correlate various Frequency of Interest (FOI) lists with empirically collected data, associate RF data with time-space-position information, and generate various output products ranging from spreadsheets to 3D visualization of the data.
---
Role Play Workstation (RPWS) is personal computer deployable software that provides the capability for user interactive command and control (C2) message creation and receipt with situational awareness display in both degraded and un-degraded modes of operation in accordance with military doctrine for the Force XXI Battle Command Brigade and Below (FBCB2). Multiple command roles can be executed at an individual station.
The RPWS suite is an assembly of several components that provides an interface between tactical C2 devices operating in a real-world environment and event drivers operating in a virtual or constructive environment. The suite allows soldiers in tactical military units to collaborate with simulated forces as though they actually exist on the battlefield. Its components in the Digital Training Facility (DTF) perform the technical operations to allow the training and simulation devices to interoperate with the tactical systems so that the source of messages and data is transparent to the live forces.
---
The Test Conduct and Reporting System (TCRS) is a requirement-driven system which attains efficiencies through detailed research, analysis, and coordination during test planning, focused and quality assured data collection during test conduct, and predefined reporting formats.
TCRS is useful for tracking requirements, generating time-ordered events lists (TOEL) and preparing performance data of a tested software/system. It's a valuable tool for the testing, planning, execution and reporting process.
The user enters prearranged data, using Microsoft Office Access, then creates a TOEL using Visual Basic. He or she then prints their reports in whatever format they choose.
---
Test Talk is an interactive test event management and control tool. The tools offer a synchronized environment, paperless test procedures, shared operator and conductor comments in real time, monitoring of test progress, and collect and report performance, anomaly and survey data. TestTalk provides an interactive means to both electronically distribute and display, time-ordered event lists to be used before, during, and after test events.
The event lists are generated and ordered using TCRS. Test Talk provides the test conductor master event lists and gives each operator their unique task list for the test event. This allows the synchronization of actions even for large distributed test events involving multiple threads of execution while maintaining active central control. Collecting operator data is also enabled through TestTalk so that it can be processed and reported through the TCRS database.
TestTalk has client-server software architecture, with the TestTalk server hosting the data for any number of widely distributed lightweight clients (Web Browsers). TestTalk implements it own custom HTTP server making it very secure from hacking using known exploits in commercial web servers. Because it cannot launch external processes (via computer generated image (CGI) or other mechanisms), the TestTalk server cannot be used to compromise the security of the system, on which it is running. The content of a TestTalk driven "web service" is driven by structured HTML documents that contain embedded server side includes (SSI) tags which expose the dynamic information content of the TestTalk server within a completely user configurable "look-and-feel".
---
System of Systems Instrumentation