GPS Test Facility
Overview
The Global Positioning System (GPS) Test Facility performs a variety of testing using the GPS Instrumentation Suite (GPSIS) and specialized data collection and data reduction and analysis tools. Fort Huachuca's 80,000 acres of test range allows personnel to conduct testing in a variety of real world environments to include desert, canyon, and mountainous terrain, with or without foliage. We also support differentially corrected GPS data providing position accuracies in the sub-meter range, as well as producing truth data during tests.
With over 20 years of GPS test experience, EPG is well known and respected in the GPS Test community. We are members of the GPS Wing's GPS Test Center of Excellence, Satellite Simulator Control Working, Joint Test Agency Working Group and Army Integrated Product Team.
Capabilities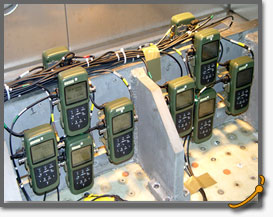 The GPSIS provides flexibility in testing receivers by providing operational control of dynamic and repeatable scenarios in a low cost laboratory environment. The GPSIS is capable of:
Simulating external sensor and aiding input data, thereby emulating a host vehicle integration
Control of each satellite vehicle's 50 bps down link data and specific data set definition for ephemeris, almanac, atmospheric modeling, UTC to GPS time parameters
Sensor data is presented on interfaces coincident with GPS RF signals; this allows us to 'drive' or 'fly' the GPS receiver in the convenience and comfort of the laboratory, thereby reducing costly dynamic testing
Simulations are replayed exactly and as many times as necessary, with controlled variability to exercise intricacies in receiver design, or to exploit receiver anomalies and performance issues
Integrated control for Electronic Warfare (EW) and multipath signals that are modeled through computer control; the simulated GPS signals are injected directly into a GPS receiver under test in the laboratory
GPS Support
GPS Field Testing

GPS receiver performance testing in tactical, live environments
Characterize impact of actual interference while operationally configured on vehicle
Compare different GPS receivers in live environments

Field Testing- Support Equipment

Portable Data Collection systems:

PDA handheld-based systems
Allows monitoring of GPS receiver while testing
Collects performance data at 1-Hertz rate

Portable Jammer Systems (if needed):

Provides interference signals (known threat or custom)
Adjustable power levels
Precise control

Other GPS Testing Supported

Environmental Reliability
Demonstration EMI/EMC
Antenna Pattern
Test Program Support
Some of the test programs supported by the test facility include, but are not limited to:
DAGR (Defense Advanced GPS Receiver)
PLGR (Precision Lightweight GPS Receiver)
GB-GRAM (Ground Based GPS Receiver Application Module)
JPADS (Joint Precision Air Delivery System)
Land Warrior
CSEL (Combat Survivor-Evader Locator)
MAGR (Miniature Airborne GPS Receiver)
DASH (Defense Advanced Small Serial Interface (SSI) Host )
Tomahawk Missile
Future Capabilities
The GPS test facility is currently developing test capabilities for the new GPS signal in space, including the M-code.