KOFA Range
The KOFA Firing Range consists of several test areas: the Main Front Area, with 21 permanent firing positions, ammunition storage and preparation, and environmental simulation facilities; the Terminal Ballistics Evaluation Area, with prepared and instrumented impact areas; and the Extended Range Munitions Area, with maximum range attainable of 75,000 meters, with 65,000 meters under tracking surveillance.
The Automatic Weapons and Ammunition Test Ranges provide up to 4,500 meters of direct fire at large variable obliquity armor, cloth, and aluminum-plate targets. The range has horizontal impact areas up to 500 square meters and sod, diced earth, mud, sand, and macadam fuse graze function targets.
Movable firing positions provide complete facilities for test operations, instrumentation, and ammunition conditioning. Any degree of elevation is permitted to ranges of 10,000 meters.
The Tank Accuracy Range features acoustic target scoring for firing on the move; the aided laser tracking system; vibration test systems; a dynamometer test system; an acoustic measuring system; flash x-ray units; and a 32/77 Multistream Super Mini-computer.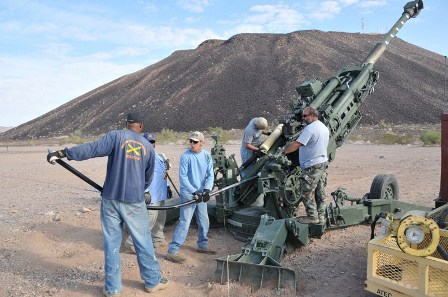 The proving ground's Mine, Countermine and Demolitions complex is the western world's most advanced mine test facility. Operating under carefully controlled conditions by mine experts, the facility boasts an open field and closed chamber test capability. For reliable testing on mine clearing or any other type of mine operation, this is the place to come!
Instrumentation
Tracking Radars
Doppler Radars
Telemetry
GPS Reference
Flash X-Ray
Velocity
High Resolution Film & Video
Breech Pressure
Optical & Infra-Red Imaging and Tracking
High Speed Film & Video
Computational Facility
Real-Time Data
Facilities
Numerous Direct and Indirect Firing Ranges
DT/OT Firing Range with Moving/Pop-up Targets
Various Gun Positions with Acoustic Target Scoring
Dedicated Depleted Uranium and High Explosive Ranges
Electro-Magnetic Weapon Facility
Maintenance Shops
Non-Destructive Test Capabilities
Automated High-Rate X-Ray
Ammo Assembly & Disassembly
Ammo Storage
MIL-STD-810 Env Simulation
38,000 lb Vibration Capacity (Ammo Capable)
Chemical Test Facility
Calibration Facility
Mine Countermine Test Complex