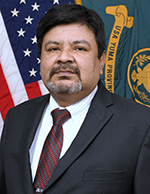 Technical Director
Mr. Larry Bracamonte
Mr. Larry Bracamonte currently serves as the Technical Director of the Yuma Proving Ground (YPG). Prior to selection to this position, he served in various engineering and technical management positions, including Test Project Engineer, Test Team Leader, Chief of the Munitions Branch, Chief of Mortars and Mines Branch, Chief of the Munitions and Weapons Division, and Director of Ground Combat Systems of the Yuma Test Center, and Associate Director of Test Management (G-9) at ATEC Headquarters. In these roles, he worked on and led developmental, production, stockpile reliability, and product improvement testing of a diverse variety of armament and combat support systems, including the majority of artillery, mortar, mine, direct fire, and vehicle systems fielded to the U.S. Army and U.S. Marine Corps.
Mr. Bracamonte holds a Bachelor of Science degree in mechanical engineering from the University of Arizona, and a Master of Science degree in weapon and vehicle systems from the Royal Military College of Science, Cranfield University (United Kingdom).
Mr. Bracamonte is a member of the Acquisition Corps and holds Level III Certification in Test and Evaluation. His awards include the Superior Civilian Service Award, National Association of Hispanic Federal Executives Civilian Meritorious Award, and the Commanderís Award for Civilian Service (3). He was inducted into the Honorable Order of Saint Barbara by the U.S. Field Artillery Association for his contributions to Army and Marine Corps artillery.
BACKGROUND
Mr. Larry Bracamonte
Education:
University of Arizona Bachelor of Science in Mechanical Engineering

Royal Military College of Science, Cranfield University, Master of Science in Weapon and Vehicle Systems


Download

Biography

Official Photo