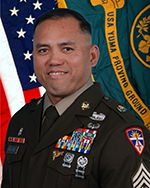 Command Sergeant Major
Command Sgt. Maj. Mark A. Millare
Command Sergeant Major (CSM) Mark A. Millare is a native of Leyte, Philippines. He migrated to the United States in May 1999 and enlisted in the U.S. Army in August of the same year. He completed Basic and Advanced Individual Training at Ft. Leonard Wood, MO in December 1999 as a 12B, Combat Engineer. CSM Millare has served in every position from team leader to Command Sergeant Major. His deployments include rotations to Kuwait during Intrinsic Action 01-03 and Korea as part of TF Ready in 2016. He also deployed to Bosnia during Operation Dynamic Response 2003, three tours supporting Operation Iraqi Freedom in 2004, 2006-2007 and 2009, and one tour supporting Operation Enduring Freedom in 2012-2013. Additionally, during his three-year service with the 2d SFAB, he participated in multiple exercises and executed mil-to-mil engagements in several countries in the African Continent.
CSM Millare has completed all NCO Professional development courses from BLC to the Sergeantís Major Course (SMC) at USASMA (Class 68). He also completed Combatives Level I, Joint Engineer Operations Course, DEOMI Equal Opportunity Adviser (EOA) Course, Sexual Harassment/Assault Response and Prevention (SHARP) Course, Combat Advisor Training Course, Battle Staff, NATO SFA Operator Course, Air Assault Course and Pathfinder Course. He holds a Bachelorís degree in Civil Engineering from Holy Name University, a Masterís degree in Project Management from Columbia Southern University and is a certified Project Management Professional (PMP).
CSM Millareís achievements include receiving the Army Combat Engineer (ACE) Squad Leader of the Year for 9th EN BN in 2006, the Distinguished Honor Graduate for ALC, the Distinguished Writer award for the Equal Opportunity Advisor Course in 2010 and the COL Francis J. Kelly Counterinsurgency Paper Award from USASMA. The winning paper, Defeating ISIS in Iraq: A Race Against Time, as well as a second article, A Denuclearized Korean Peninsula, have both been published in the NCO Journal. He is also a recipient of the Bronze De Fleury Medal, the Sergeant Morales Medallion, and the prestigious Sergeant Audie Murphy Award.
CSM Millareís awards and decorations include the Bronze Star Medal (2 BOLC), Meritorious Service Medal (3 BOLC), Army Commendation Medal (10th award), Army Achievement Medal (3 BOLC), Good Conduct Medal, Valorous Unit Award (2 BOLC), Meritorious Unit Commendation (2 BOLC), Army Superior Unit Award (2 BOLC), National Defense Service Medal, Armed Forces Expeditionary Medal (1 Star), Iraqi Campaign Medal (3 CS), Afghanistan Campaign Medal (1 Star), Global War on Terror Expeditionary Medal, Global War on Terror Service Medal, NCO Professional Development Ribbon (Numeral 5), Army Service Medal, Overseas Service Medal (Numeral 7), Military Outstanding Volunteer Service Medal, NATO Medal, Combat Action Badge, Pathfinder Badge, Air Assault Badge and the Driverís Badge.
CSM Millare is married to the former Eunice Cervantes and blessed with a daughter, Isabella.
Download

Biography

Official Photo