History
The U.S. Army Aberdeen Test Center (ATC), a subordinate command to the U.S. Army Test and Evaluation Command, dates its beginning from World War I when due to the wartime congestion of New York Harbor, the Army moved artillery testing from Sandy Hook, New Jersey, to rural Aberdeen, Maryland.
In January 1918, testing began at Aberdeen. Initially known as the Proof Department, the organization tested artillery until 1923 when it created two main divisions of ordnance and automotive testing. This structure remained in effect until 1942.
Expansion during World War II brought the Proving Center, which in 1943 became the Ordnance Research and Development Center (ORDC).
In 1945, the ORDC reorganized into the Development and Proof Services.
In 1962, the U.S. Army Test and Evaluation Command, which was ORDC higher headquarters, was established, and its main office was located at Aberdeen Proving Ground. The test mission and facilities, along with the expertise of the work force, continued to expand, and in 1968, the Development and Proof Services was renamed the Material Testing Directorate.
In July 1984, Combat Systems Test Activity (CSTA) was activated as an independent brigade-level command.
In June 1995, CSTA was redesignated as the U.S. Army Aberdeen Test Center, which links directly to our historical lineage.
Today, ATC is the Defense Departmentís lead agency for land-combat, direct-fire, and live-fire vulnerability testing. ATC is a multi-purpose test center with diverse capabilities. It has become a world-class testing, training, modeling, simulation, and experimentation facility that gives American Warfighters superior materiel and technology.
Download ATC History Book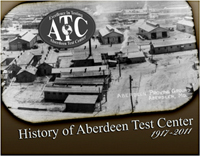 PDF File