Special Programs Division
The Special Programs Division (SPD) is a unique blend of technical personnel that includes PhD-level physical scientists, chemists, engineers, and microbiologists, in addition to former civilian and military Chemical, Biological, Radiological, Nuclear, Explosives operators. SPD specializes in the planning, execution, and analysis CBRNE warfare defense systems and processes in an asymmetric environment.
Tactic, Technique, and Procedure Development and Evaluation
A leader in preparing personnel for both domestic and overseas contingency CBRNE operations, Dugway Proving Ground facilitates the development and refinement of Department of Defense, Department of justice, federal, and state agencies CBRNE tactics, techniques and procedures within a CBRNE mission. Dugway's subject matter expertise, diverse ranges and unique facilities allow for a broad range of asymmetric as well as conventional warfare training to including: air/ground deployment of a unit; desert warfare and live-fire ranges; land navigation and off-road vehicle mobility; jump zones and close air support ranges; high-angle marksmanship facilities; Improvised Explosive Devise immediate response drills. Dugway Proving Ground is the only single geographical location within the United States capable of conducting such full spectrum mission profiles.
These courses focus on the core areas of signature recognition, detection/identification, sampling, decontamination, properties and hazards of the CBRNE materials of interest. This is achieved through a series of lecture, laboratory, and practical exercises.The following are examples of TTP Development courses that have been customized to each customer's specific mission needs: Two chemists from Special Programs Division apply a simulant to a test apparatus in a lab at Dugway Proving Ground Chemical Energetics Course - Forty-hour course designed for DoD explosives ordnance personnel. Curriculum includes synthesis of chemical energetic materials, handling, detection and mitigation.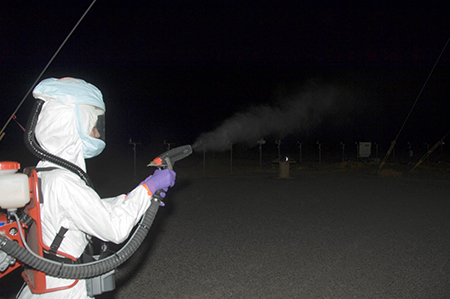 Chemical/Biological Level 1 - Four-day program including classroom and laboratory work with chemical and biological agents. Course covers chem/bio agent overviews, production, sampling, decontamination, neutralization, and scientific instruction.
Chemical/Biological Level 2 - Advanced four-day program including practical exercises on synthesis, threat recognition, dissemination, sampling, team exercises, and training on analytical equipment.
Bio Dissemination Course - Four day program designed to teach the characteristics of biological materials disseminated through various methods. Historical Dugway bio testing grids are used to conduct series of bio simulant disseminations and study their behavior.
Biological Sampling and Detection - Course provides an overview of biological sampling methods and detection technology.
Mobile Team training - Designed for conducting field exercises at a unit's home station. Includes lab scenarios, hazardous material training day, chemical/biological overview and survey of equipment, production, collection/sampling, and decontamination.
Advanced Chemical/Biological Warfare Overview - This five-day course is designed for up to 12 EOD students who have received prior basic or advanced training related to chem/bio warfare, and consists of three days of advanced biological warfare training, two days of advanced chemical warfare training, to include classroom and laboratory training covering an overview of various agents, agent production methods, agent effects, detection, mitigation, decontamination, dissemination, and worldwide threat and intelligence briefings. This course requires an SCI clearance level and the student must have an active mission that relates to chem/bio defense.