Community Connections

OTC supports science and engineering mentorship programs FIRST (For Inspiration and Recognition of Science and Technology) and STEM (Science, Technology, Engineering, and Mathematics).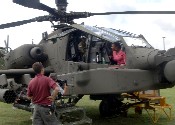 OTC invites area business and political leaders to demonstrate to them the latest innovations being tested for the Warfighter.


OTC supports programs that enable college students to gain hands-on experience at OTC while earning their degrees.