Operational Test Command
promotes new equipment for soldiers in combat
Herald/David Morris
Sgt. 1st Class Richard Davis briefs a group of civic leaders before entering a Chinook helicopter Tuesday morning during the Operational Test Command's annual Civic Leader's Day.

Community leaders from Killeen, Copperas Cove, Harker Heights, Belton, Temple, Lampasas and Gatesville, gathered on West Fort Hood on Tuesday for the Operational Test Command's 2008 Civic Leader's Day.

The annual event is a way to share information with local community leaders about the kind of equipment their citizens' tax dollars are funding, and to display that equipment so leaders can see what the military is putting into soldiers' hands, said Eloise Lundgren, the Operational Test Command's spokesperson.

The Operational Test Command is an organization, mandated by law, that tests, assesses and gathers information on all equipment the military is planning to buy and field.

The operational test command is one of three subordinate commands under the Army's Test and Evaluation Command. Along with the Army evaluation command and the developmental test command, the operational test command helps to evaluate a piece of equipment before it is fielded for use in combat.
Herald/David Morris
Staff Sgt. Harold Turner shouts as if he were firing a surface-to-air stinger missile system during a display at Operational Test Command Headquarters on West Fort Hood as part of Civic Leader's Day.
The Army evaluation command is the organization that identifies equipment needs. The developmental test command conducts tests to ensure that equipment meets certain specifications and the operational test command employs the equipment in a realistic training environment.

Receiving feedback directly from soldiers, the operational test command is then able to identify changes before the equipment is modified and put in soldier's hands in combat zones.

"We are the last gut check (before equipment is fielded and given to soldiers for combat use)," Lundgren said.

"The operational test command is the trusted agent of the soldier," said Col. Curtis Potts, commander of the operational test command on West Fort Hood. "This is very important work that we do here."

Employing more than 1,300 people including civilians and contractors, the operational test command has conducted testing in combat environments since 2005, sending out teams of forward operational testers to areas throughout the Middle East.

These teams collect information on equipment that was rapidly acquired and fielded.

"(Forward operational testers) figure out improvements from the lowest level (by depending on those soldiers directly operating the equipment)," Potts said. "Our ultimate customers are our soldiers."

The operational test command is responsible for many upgrades to combat equipment such as combat locks added to heavily armored vehicle doors.

Life-saving upgrades are usually done at a quicker pace, but all upgrades require funding. When funding is unavailable, upgrades are stalled until the next fiscal year or until funding becomes available. For this reason, some upgrades cannot be done immediately. Following Col. Potts' introductory briefing civic leaders viewed the new equipment on display on West Fort Hood.

Among the displayed equipment were the new Light Utility Helicopter, LUH-72, Lakota, used for general support and VIP escort. The aircraft is currently used only for stateside missions, but was tested at the national training center last year to see how it would endure a combat-like environment.
Herald/David Morris
Col. Curtis D. Potts, commander of Operational Test Command, gives a briefing and the layout of the test directorate equipment goes through before it is used by soldiers in combat during Tuesday's Civic Leader's Day.
The Black Hawk, UH-60M, an aircraft fresh off the assembly line, serves as a troop transport, medical evacuation, command and control aircraft, and also carries internal cargo and external cargo loads. The latest model provides a more powerful engine, increased lift and a multi-function display in the cockpit.

Two versions of the Mine Resistant Ambush Protected vehicle were on display. Both category I and II versions of the wheeled-vehicle are currently in use by units in the Middle East and serve as patrol vehicles and troop transport vehicles. All are designed with the highest level of protection.

Students from the Nifty Engineer Robotics Design Squads from Buena High School in Sierra Vista, Ariz., and students from the Cyber Wolf Corps at Shoemaker High School in Killeen displayed their robots on a make-shift course featuring a track and a bar over which robots threw balls of varying sizes.

The programs, sponsored by the operational test command, promote an interest in math, science and engineering in high school students. Some program participants may go on to develop equipment used by soldiers in combat environments.
OTC Command Sgt. Maj. Lawrence Wilson shows longtime friend Jay Taggart of the Belton Chamber of Commerce how to position himself while jumping with a parachute during Civic Leader's Day demonstration on West Fort Hood.
Marty Smith, president of the Copperas Cove Chamber of Commerce, said Tuesday's event was by far the best of the four civic leader's days she's attended.

"(The event) was very well organized and informative," Smith said. "It makes me feel good about where tax dollars are going. (The Army is) showing what it's doing to protect our sons and daughters in Iraq."

Jay Taggart, chairman of the military relations committee for the Belton Chamber of Commerce, added that he was happy to see the quality of equipment going to soldiers.

"The general public doesn't see and appreciate that," Taggart said. "From clothes to parachutes, helicopters, rifles and heavy equipment, when you see the full spectrum (of equipment fielded) you see how important it is to get it to soldiers. Those items and improvements can save a life and give us an advantage over the (enemy)."

Taggart added that equipment upgrades are not a waste of money and he hopes that civic leaders take that message back to their communities.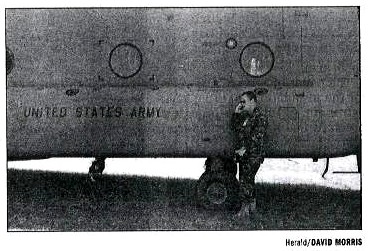 A Canadian soldier talks on his cellphone outside a newly digitalized Chinook helicopter on display during the OTC Civic Leader's Day on West Fort Hood.