ATEC Command Video
LEADERSHIP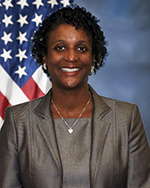 Ms. Deirdre Sumpter is the director (acting) of the Army Evaluation Center, U.S. Army Test and Evaluation Command at Aberdeen Proving Ground, Md.
MISSION
To plan, support, conduct and provide independent evaluations, assessments, and experiments in order to provide essential information to decision-makers.


VISION
AEC exists to support the Army Test and Evaluation Command (ATEC) in meeting its responsibilities in defending our country and to help improve DoD's performance and accountability for the benefit of the American people. As a sub-command of ATEC, it is our responsibility to provide leadership and the customer the most effective, efficient, creditable, and reliable information. It is of the utmost importance for our organization to reflect excellence in all of our business operations, practices and professional endeavors. In our mission to support the Department of Defense (DoD), we seek to identify areas for improvement, and by doing so we promote the best business practices throughout DoD and the Department of the Army (DA).