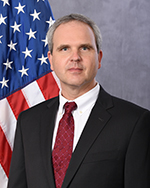 Technical Director
Mr. Kenneth G. Chenoweth
Mr. Kenneth Chenoweth was selected as the Technical Director of RTC in October 2023 after spending almost 27 years in various positions throughout the organization.
Mr. Chenoweth has been with RTC since 1997 where he started as an Engineering Technician with Engineering, Research, and Consulting, Inc. In 2002, Mr. Chenoweth transitioned into Federal Service with RTC where he continued his career as a Mechanical Engineer serving in many key roles. These positions include Team Lead with the Environmental and Component Test Directorate (ECTD), Senior Test Engineer with the Missiles and Sensors Test Directorate (MSTD), and Logistics and Sustainment Account Manager for the Test Program Integration Directorate (TPID).
In 2015, Mr. Chenoweth was selected as Chief for the MSTD Instrumentation Development Division and played a key role in the directorate's reorganization that same year. In 2018, Mr. Chenoweth transferred to ECTD where he assumed the duties and responsibilities of Chief for the Climatic Test Division. In March 2021, Mr. Chenoweth was selected to be the Director of MSTD positioning the Directorate to achieve ATEC's modernization goals.
Mr. Chenoweth received his Bachelor of Science degree in Mechanical Engineering from the University of Alabama in Huntsville in 2002 and earned a Master of Science degree in Management from the Florida Institute of Technology in 2011. He is an Acquisition Corps member and has a level III certification in the Test and Evaluation career field. Mr. Chenoweth is a graduate of both the Intermediate and Advanced Civilian Education Systems.
Mr. Chenoweth's awards include the Meritorious Civilian Service Award, two Commander's Awards for Civilian Service, and multiple Performance and Special Act awards.
Mr. Chenoweth was born in Rochester, Michigan. He is married to Mrs. Whitney Chenoweth and they reside in Harvest, Alabama.